Book Review: Gone Girl by Gillian Flynn
August 20, 2014 § 3 Comments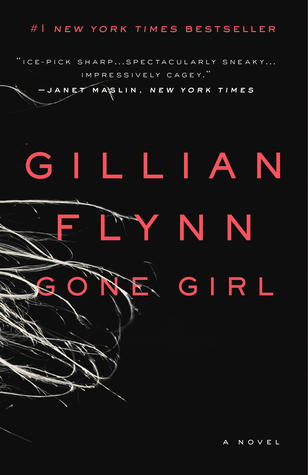 Title: Gone Girl | Author: Gillian Flynn
Series: Stand Alone | Genre: Drama, Mystery
Format: E-Book | Date Finished: August 6, 2014
Rating: 2 Cups of Coffee
---
"There's a difference between really loving someone and loving the idea of her."
On a warm summer morning in North Carthage, Missouri, it is Nick and Amy Dunne's fifth wedding anniversary. Presents are being wrapped and reservations are being made when Nick's clever and beautiful wife disappears. Husband-of-the-Year Nick isn't doing himself any favors with cringe-worthy daydreams about the slope and shape of his wife's head, but passages from Amy's diary reveal the alpha-girl perfectionist could have put anyone dangerously on edge. Under mounting pressure from the police and the media—as well as Amy's fiercely doting parents—the town golden boy parades an endless series of lies, deceits, and inappropriate behavior. Nick is oddly evasive, and he's definitely bitter—but is he really a killer? -Goodreads
My Review
Lots of others are seriously in love with this book but I just can't bring myself to like Gone Girl . It was a difficult read for me, my struggle to understand two very sick people, husband and wife, in this story makes me feel that this book is hopeless. Reading the first half of the story was a pure torture. Slow unraveling of Nick's dirty secrets, the investigation into Amy's disappearance (the investigation team members were a bunch of pathetic people) and the flashbacks of the two equally very sick husband and wife  troubled marriage. I put it aside a few times to gather the courage to read it. I strained my brain to try to understand why this chunk of Gone Girl had no appeal to me whatsoever. I am just not interested. I can not relate myself with the story and I feel really disconnected from the characters. I hate Amy, I hate Nick, and the rest of the characters were not likable as well. I think Flynn overdid with the characters. They were overly self-centered, overly pathetic, overly spoiled, and they really annoyed me.
But then came the second part which I think much more exciting, dark, and dangerous. I picked up the speed and I was interested to know what will happen to the main characters. Amy especially surprised me a lot, she was a wicked, dark, twisted, and dangerous. Unexpected things happened and the main characters started to reveal the other sides to them that were quite shocking and entertaining. However, it was a little too late. The damage was done. Though the second part was nerve wrecking, I think something needed to be done to make this book a better read. Make the first part shorter and do not overdo with the characters.
All in all, Gone Girl is an OK read. I liked the idea of the dark and twisted love story but for this book I think the idea is poorly delivered especially in the first part of it. But that doesn't change the fact that I am going to go the cinema to watch hateful Nick and Amy on big screen soon because this is the main reason I picked the book to read in the first place. I love Rosamund Pike!!
§

3 Responses to Book Review: Gone Girl by Gillian Flynn